AAAS Report Released: America's Languages: Investing in Language Education for the 21st Century
Tuesday, February 28, 2017
America's Languages: Investing in Language Education for the 21st Century
Published by American Academy of Arts & Sciences, Cambridge, MA, 2017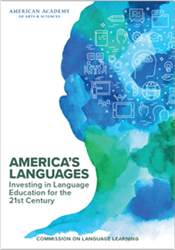 Research Papers, Monographs, and Project Publications
Click here to read the report online and download the PDF
Executive Summary Excerpt:
According to the U.S. Census Bureau, more than sixty-five million U.S. residents speak a language other than English at home—a number that has been growing decade by decade since the 1970s. Nevertheless, that number represents only 20.7 percent of the total population, and only a fraction of this cohort speaks, reads, and comprehends a second language well enough to use it in their everyday lives.2 The vast majority of American citizens remain monolingual.
While English continues to be the lingua franca for world trade and diplomacy, there is an emerging consensus among leaders in business and politics, teachers, scientists, and community members that proficiency in English is not sufficient to meet the nation's needs in a shrinking world, nor the needs of individual citizens who interact with other peoples and cultures more than at any other time in human history.
In this report, the Commission on Language Learning recommends a national strategy to improve access to as many languages as possible for people of every region, ethnicity, and socioeconomic background—that is, to value language education as a persistent national need similar to education in math or English, and to ensure that a useful level of proficiency is within every student's reach. As children prove especially receptive to language education—they spend much of their time in educational settings and can develop language skills gradually throughout their lives—the Commission believes that instruction should begin as early in life as possible. Its primary goal, therefore, is for every school in the nation to offer meaningful instruction in world languages as part of their standard curricula.
As a corollary, the Commission urges two- and four-year colleges and universities to continue to offer beginning and advanced language instruction to all students, and to reverse recent programmatic cuts wherever possible. It also applauds recent efforts to create new undergraduate language requirements on two- and four-year campuses.